12/12mm Straight Cut Chips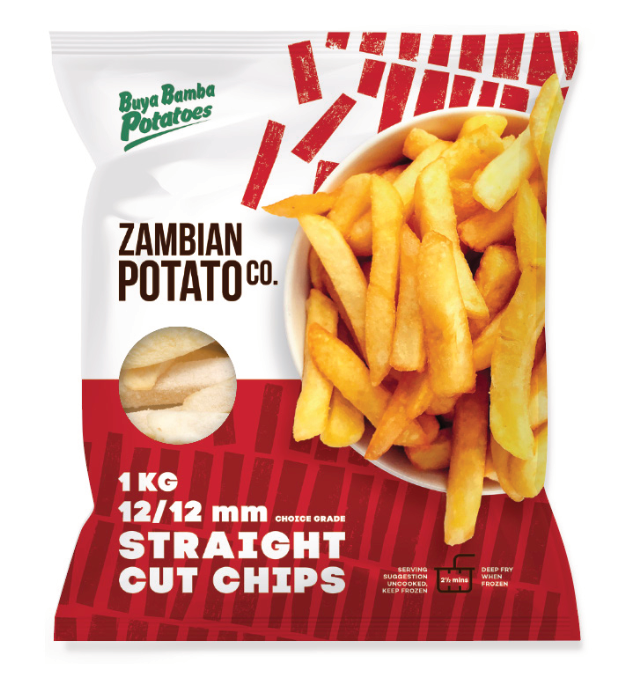 We bring you our delicious potato chips made with passion and heart. Only the very best potatoes have made it into this bag – chosen potato varieties grown in the fertile soils of Zambia that are full of natural flavour and meet quality standards.
Inspired by our African roots, we are a company who believes in creating opportunities bigger than ourselves. We celebrate what is local and are committed to bringing you quality, locally developed product to relish and enjoy.
INGREDIENTS
Potatoes, Non-hydrogenated Vegetable Oil, Dextrose, Sodium Acid Pyrophosphate.
STORAGE INSTRUCTIONS
BEFORE OPENING
Keep frozen at -18oc or below.
AFTER OPENING
Seal the bag and keep frozen at -18oc or below.
COOKING INSTRUCTIONS
The following are guidelines for approximately 500g of frozen product. For larger quantities adjust cooking times accordingly. For best results cook directly from frozen. If thawed do not refreeze the product.
DEEP FRY
Add oil to deep frying pan.
Heat oil at 175oC. Add 1 chip to test. If the chip floats it is ready for frying.
Add the rest of the chips to the oil and fry for 2.5 – 3 minutes until crispy and light golden in colour.
Drain, season and serve immediately.
BAKE
Preheat oven to 200oC.
Spread your chips evenly in a single layer onto a greased baking tray.
Bake for 20-22 minutes, turning halfway through, until crispy and light golden in colour.
Season and serve immediately.
NUTRITIONAL INFORMATION
DOSE INDIVIDUAL
PER 100G
PER 80G
Energy (kJ)
550
440
Protein (g)
2.5
2
Glycaemic Carbohydrate (g)
18
14
Of which total sugar (g)
<0.5
<0.5
Total Fat (g)
4.8
3.8
of which Saturated Fat (g)
2
1.6
of which Trans Fat (g)
<0.1
<0.1
of which Polyunsaturated Fat (g)
0.7
0.6
of which Monounsaturated Fat (g)
1.8
1.4
Cholestrol (mg)
<1
<1
Dietary Fibre (g)
2.3
1.8
Total Sodium (mg)
12
10